Featured Products
featured
Easily Treat your Excessive Sweating and Perspiration Problems with Maxim® Antiperspirant
Maxim® antiperspirant can easily treat and stop your excessive sweating and perspiration problems, also known as hyperhidrosis within just a few days of application. Maxim® antiperspirant is known as the best deodorant antiperspirant for excessive sweating and is recommended by hundreds of dermatologist in the US to stop hyperhidrosis.

How Maxim® Works For You
Maxim® Antiperspirants work all day long. It blocks the sweat producing ducts, thereby reducing the amount of sweat that reaches the skin's surface. One application of Maxim® Antiperspirant can last for more than 72 hours. Stay dry and fresh all day long with our long lasting active ingredients. Stop worrying about your emotional, social, and functional lives that have been affected by excessive sweating.
Building Confidence By Getting Rid of Hyperhidrosis
For over 16 years, Michelle has used Maxim Antiperspirant to stop her excessive sweating.....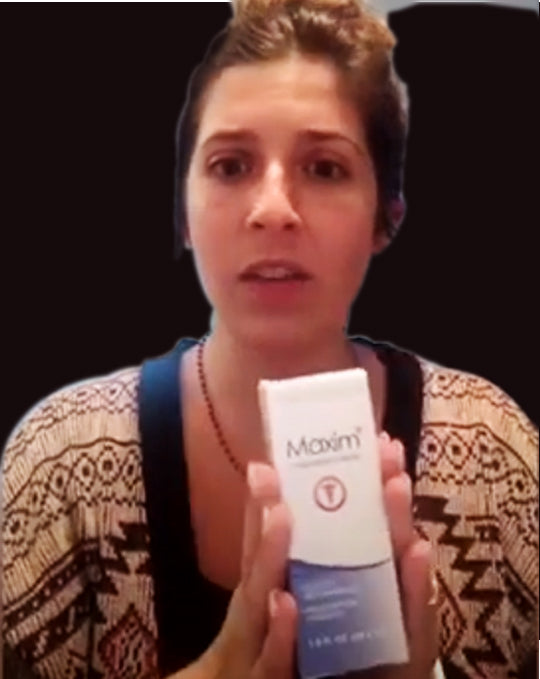 Happy Clients Review
I Just wanted to thank product Maxim. Finding this product has been life-changing for my teenage daughter. She suffers from excessive perspiration and it was definitely affecting her day-to-day life. Being a 15 year old girl is hard enough without a problem like this. Her perspiration problems forced her to dress differently from her friends. Sh was unable to wear one layer of shirt. She always had to wear multiple layers to hide her problem. Almost immediately after starting with Maxim she stopped perspirating. She is now able to wear whatever she wants with no worry about sweat marks! She and I thank you for this product.
I just wanted to say that you product is amazing. I am a college student and I was always afraid to raise my hand in class or for someone to see the sweat. I always had to buy dark colored shirts but now I can wear whatever I want to. I have been using Maxim for a couple of years now and it has really boosted my confidence. I just ordered some more from you. It's great stuff and I have recommended it to many friends. Thanks.
I recently purchased Maxim after searching the web for information on excessive sweating. My teenage daughter has suffered from underarm sweating for years. It is a terrible thing for a teenage girl to not be able to dress in brightly colored tops, to only be limited to wearing whit or black so that no one noticed the underarm sweat. She had tried everything including Botox injections and had no success. I had read your testimonials and found myself almost in tears hoping that this product would work. We received it a week ago and almost immediately sh noticed that she had stopped sweating. She is a little itchy once she first applies it but that is the only minor complaint. I have no words to express how happy she is and how this will improve her life. Thank you so much. We will definitely pass the word along and will be buying more Maxim soon!
I am a busy mom and a wedding photographer, and suffer from extreme hypohydration. Like others, I have tried dozens of deodorants with no improvement. I came across your product through a google search, and figured I had nothing to lose. I am a changed woman! It sounds so silly to say a deodorant can change your life, but it has! I live in the deep south where the humidity can be 100% in the summer, so being a wedding photographer can be a very hot, sticky job. No more! I am thrilled to see you are offering wipes and I am stocking up on the deodorant as well. I have only needed to apply every 2-3 days. I can't thank you enough for creating this amazing product. Please never stop what you are doing. Hi and Dry in Georgia!!
Previous
Next
Destroy
Hyperhidrosis
Hyperhidrosis is brutal, everyone who has it knows this. Hyperhidrosis is excessive sweating or perspiration, generally in the armpits, although the hands,